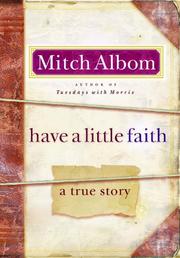 Review by Arleen Twist on March 28, 2010
Categories: Christian Living, Non-fiction
If you've read any of Mitch Albom's other books, you know how his conversational style immerses you immediately into the story. He makes it seem as if you are in the room with him.
"Have a Little Faith" brings you into the conversations between Mitch and the elderly rabbi from his home synagogue in New Jersey. Mitch and the Rabbi have know each other since Mitch's childhood. The Rabbi's simply stated philosophies of life and faith encourage you to think about your own beliefs, as they encouraged Mitch to think about his.
The Reb said that the reason for life is to give to others, to celebrate God, and to honor our world. By including the story of the pastor of the derelict Detroit church and its extremely needy parishioners, Mitch shows how the Reb's philosophies can be applied to real-life situations for people of any faith.
This is not a dull, philospphical book, but is the real-life story of three people at different places in their lives who have separately reached the same conclusion about the purpose of life. Read "Have a Little Faith" and be inspired!
P.S. This would be an excellent book for group study.